Central Qualifications News
---
Veterinary Nursing Educator Awards 2017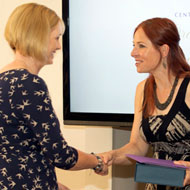 CQ celebrates hard work and commitment of educators

This year, Central Qualifications (CQ) have launched the first 'Veterinary Nursing Educator of the Year Awards'. The Awards were presented by Professor Alice Roberts at the CQ Graduation and Awards Ceremony held at Central Hall in Westminster on Saturday, 10th June 2017.

Over a hundred nominations were received for the award but the quality of the comments also played a very important part in the choice of award winners.

A selection of the comments are shown below:
'She goes above and beyond for her students, really helpful and a great teacher.'

'Truly committed to her students and their success. I couldn't ask for a better clinical coach.'

'Outstanding tutor. Teaches in a way understood by all students.'

'She goes above and beyond everyday to progress our practice and educate our junior staff to the highest standards.'

'She is very inspiring and supportive of all her students, a great tutor and teacher.'

'She is a dedicated passionate veterinary nurse who aims for excellence in her teaching of VN students'

With so many excellent nominees it was no easy task to choose only two award winners but the two candidates who stood out above the crowd for the 2017 CQ Veterinary Nursing Educator of the Year Award winners are: Kirsty Gwynne and Karen Saddleton.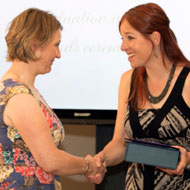 Kirsty Gwynne
Grad DipVN RVN Cert Ed C-SQP V1

Kirsty started her career in small animal practice, gaining her VN qualification in 2001. She then went on to hold a Head Nurse position before moving into academia, mixing this with part-time locuming.

Kirsty worked in the academic environment for three years, but found that she was losing touch with the clinical aspects and skills required for veterinary nursing. She felt the need to be able to combine the very necessary academic skills with the clinical skills required to make a rounded veterinary nurse and with this in mind she joined Abbeydale Vetlink Veterinary Training Ltd, becoming a co-director with Sam Morgan (currently BVNA President).

Kirsty has been in this role for nine years and when asked what she most likes about it she simply replied, everything. She is very hands on and is involved in teaching, arranging TP visits and appraisals, course development and marketing. She is also passionate about providing student support. She emphasised how much she valued the support of Sam Morgan, who she described as a fabulous business partner.

Asked what the award meant to her Kirsty replied, 'a great deal'. She explained that she had been 'beavering' away for many years, very happy to be under the radar, but that it was great to actually be recognised for what she did. She said that she was proud to receive the award, but aware that there were so many others who also worked hard in their educator roles.

Kirsty praised CQ, calling it a robust system. She said that when nurses qualify they have really learnt their craft and that CQ are playing an important part in helping to produce nurses who demonstrate relevant, safe skills. 'CQ have got it right', said Kirsty, describing them as very approachable and supportive. Educators can contact them in the confidence that they will provide help, information and advice about managing courses and student education.

In her spare time Kirsty loves horse riding and is just starting to event her young horse. She also likes mountain biking but she emphasised that being with friends and family was the most important part of her life.

What nominators said about Kirsty:
'Kirsty is a fantastic teacher at the college, you can tell she is passionate about teaching.'

'She relates everything to 'in practice' and dedicates her time to ensuring her students understand.'

'She is never too busy to help her students.'

'Brilliant tutor, very experienced, a fun and understanding person and I'm not sure I would have passed the course without her.'

Karen Saddleton
RVN REVN PTLLS MBVNA Cert SA Nutrition

Karen qualified as a veterinary nurse in 1994 and has worked at Stowe Veterinary Group since 2001.

Karen is a tutor for veterinary nurses, specialising in practical aspects of the course. She is also a trainer for the practical exams set by CQ and provides student support tutorials, which help to complement the theory side of the nursing course.

She takes pleasure in providing the practical knowledge which helps to embed the theoretical side of veterinary nursing and finds it rewarding to see just how much new students enjoy the veterinary nurse training.

'Veterinary nursing is changing all the time and the course standards are very high so it is important that all students are provided with the support they need, particularly in their first year when they have to learn so much new information – this can be very daunting to the student. It is at this stage that they may lose confidence and a tutor can be very important in giving students the confidence they need to succeed,' said Karen

When asked how she felt about winning the award Karen said that she was honoured to be given the award and humbled that her name had been put forward. She thought that it was great to have the awards, which recognise the work put in by individuals, but pointed out that it takes an army of people to provide the training and that she is just a 'little cog' in the wheel.

When asked about CQ she commented that it maintains very high standards, making sure that when veterinary nurses qualify they have an embedded knowledge and are able to maintain very high standards. CQ review and update their syllabus as veterinary nursing processes and procedures are modernised and developed and she praised them for their helpfulness and approachability.

On a more personal level Karen revealed that her pets comprise chickens, two rescue cats and a number of fish. She loves to watch her two children playing their respective sports of tennis and rugby and is currently supporting her daughter as she sits her GCSE exams.

What nominators said about Karen:
'Karen could not have done more for all of us throughout our studies.'

'No one could be more deserving of this award.'

'Karen always has our best interests at heart.'

'She worked tirelessly and she needs to know how much we appreciated her.'