Central Qualifications News
---
CQ ceremony held to celebrate veterinary nurses and educators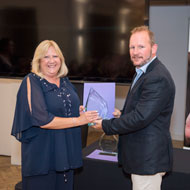 Annual Graduation and Awards Ceremony marks the end of a successful academic year

Central Qualifications (CQ) celebrated the achievements of this year's newly-graduated veterinary nurses, at a special ceremony in London on Saturday (9 June).


The CQ Graduation and Awards Ceremony, held at Central Hall in Westminster, was attended by 72 of this year's cohort of veterinary nurses.

Each graduate was presented with a CQ badge and scroll by the award-winning film director James Brickell, who also delivered the keynote speech.

James has worked at the highest level of wildlife film-making for over 20 years, mainly with the world famous BBC Natural History Unit.


Each graduate was presented with a CQ badge and scroll by the award-winning film director James Brickell.
The event also played host to CQ's Veterinary Nursing Educator of the Year Awards, which recognise the hard work and commitment of all staff who support students working towards veterinary nursing qualifications.

This year, the award was given jointly to Elaine Lamb, who is currently the acting head of Reaseheath College and programme leader for veterinary nursing; and Kerry Jackson, who is responsible for the Level 3 Veterinary Nursing Diploma at Goddard Veterinary Group.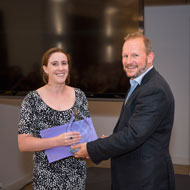 Elaine originally trained as a human nurse but retrained as a veterinary nurse in 1991. After working in small animal practice and becoming head nurse, she spent some time doing part-time lecturing on the pre-vet nursing course. 


She says she became 'hooked' on teaching and became a full-time lecturer at her local further education college, before moving on to Myerscough College in 2003, then Reaseheath in 2012. Her main teaching topics are medical nursing, anatomy and physiology. 


Commenting on the awards she said: "It gives we trainers the recognition for all of the hard work we put in to our subjects to ensure that our nurses achieve their goals and ambitions - and I am proud to receive it."
Kerry qualified as a nurse in 2002 and worked in general and referral practice, including the RVC's Queen Mother Hospital for Animals. She was inspired by the tutors on her own course to become an educator.
She began co-ordinating the Level 2 Veterinary Care Assistant course at Goddard Veterinary Group in 2011, before taking over the Level 3 Veterinary Nursing Diploma in 2016.


She enjoys providing student support and finds it particularly rewarding when a student who is struggling begins to grow in confidence. "It is the best feeling", she says, "when they don't need you anymore".
Images © The Photo Team